Señor Grubby's Oceanside
Mexican Food Delivery & Takeout in Oceanside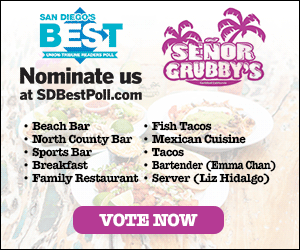 Mon, Mar 21, 12:00 am
Do you think we're the best? PLEASE NOMINATE US NOW!
Señor Grubby's wants to know if you think we are the best in any of these categories...if so, please nominate us between NOW & 3/21! Beach Bar North County Bar Sports Bar Breakfast Family Restaurant Fish Tacos Mexican Cuisine Tacos Bartender: Emma Chan at Senor Grubby's Restaurant Server: Liz Hidalgo at Senor Grubby's
More Information
The well-being of people is our top priority, so we are taking precautions to protect your health. Our Oceanside location is available to you for Delivery and Walk-In / Take-Out services.
Contact Our Oceanside Location
Come Visit Us
Señor Grubby's | Oceanside
311 N Tremont St
Oceanside, CA 92054
Oceanside Opening Hours
Monday:
9am – 10pm
Tuesday:
9am – 10pm
Wednesday:
9am – 10pm
Thursday:
9am – 10pm
Friday:
9am – 10pm
Saturday:
9am – 10pm
Sunday:
9am – 10pm
Find Our Oceanside Location on the Map